Benefits of Medical Marijuana: Q&A With a Cannabis Physician
Increased public awareness of the benefits of medical marijuana is resulting in more crossover from Big Pharma controlled substance drugs to medical marijuana.
Currently there are only 14 states that have not legalized the medicinal use of Cannabis. In the other 36, people suffering from Cancer, epilepsy, glaucoma, HIV/AIDS, PTSD, ALS, Crohn's disease, Parkinson's disease, multiple sclerosis, and chronic nonmalignant pain are now turning to Cannabis to manage their medical conditions.
To learn more about the medical Marijuana Industry, we spoke with Relax and Release founder, Dr. Carlos Levy, about his experience as a practicing "Cannabis Doctor" in Florida.
Unleash Organics: Carlos, please tell us about your medical background.
Carlos Levy: I started practicing general medicine in Florida 35 years ago. After selling my private practice, I opened a medical marijuana practice, and I've been writing marijuana recommendations (the equivalent of a prescription) for the last three years.
In addition to my own practice, I am the Medical Director at an Urgent Care facility in Southern Florida.
Was there a specific reason you decided to open a medical marijuana practice?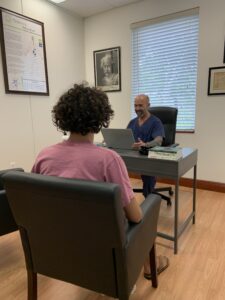 CL: I've always been a huge proponent and believer of the medical use of cannabis. But after three different couples (friends and patients) I knew had children in their mid 20s die of accidental prescription drug overdoses, I decided to open a medical marijuana practice.
Once I made the decision to switch, I had to pass the state exam to become a certified medical Cannabis physician in Florida.
What is the process for obtaining a medical marijuana card?
CL: In order to obtain a medical marijuana card, a patient must have a qualifying medical condition. Conditions vary slightly from state to state.
In Florida, a patient must be diagnosed with any of the following: Cancer, epilepsy, glaucoma, HIV/AIDS, PTSD, ALS, Crohn's disease, Parkinson's disease, multiple sclerosis, a terminal condition diagnosed by a physician other than the qualified physician issuing the physician certification, and chronic nonmalignant pain caused by or originating from a qualifying medical condition and persists beyond the usual course of that qualifying medical condition. (This list was taken from an online medical marijuna resource.)
Once a patient has a qualifying condition, he/she is put into the "Medical Marijuana Use Registry," and a doctor can write a recommendation for 7 months of Cannabis use.
Is medical marijuana covered by a patient's insurance company?
CL: No. Until Cannabis is declassified as a Schedule 1 drug, it is not likely that insurance companies will cover medicinal marijuana. Patients have to pay for their prescriptions with either cash or credit card.
Which prescription drugs are you most commonly replacing with marijuana?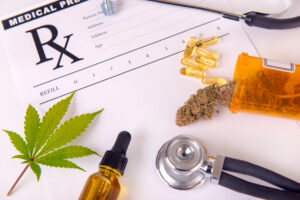 CL: Most of my patients were previously using opiates, narcotics, benzodiazepines, and selective serotonin re-uptake inhibitors, also known as SSRIs, and used for anxiety and types of depression.
Many of my patients who have switched from Paxil, Lexapro, Zoloft, and Prozac to Cannabis have done so because the SSRIs stopped working and were no longer effective.
A patient would never be prescribed the same drug for glaucoma that they use to manage anxiety. How is Cannabis able to work for so many, different medical conditions?
CL: There is a lot of scientific research on the medicinal benefits of Cannabis, too much to get into in this post, but basically, we have receptors for Cannabis in every cell and organ of our body other than the BRAIN STEM. Because Cannabis releases norephinepherine, dopamine, serotonin, and other human THC-like substances (anandamide and 2-AG), it is able to help the body address multiple medical issues.
Is there a difference in quality between today's street Cannabis and medical marijuana consumer products available from dispensaries?
CL: Definitely. Medical marijuana is a much higher quality than marijuana purchased from the local pot dealer.
In Florida, the Department of Agriculture regulates medical marijuana, and every part of the plant's growing process is recorded and tracked. Today, a patient can literally track the history of the Cannabis plant they are using. The end result is a higher quality product, which is good for patients.
Do you have any other advice for people considering switching from big pharma medicine to Cannabis?
CL: If you're considering using medical marijuana, you definitely want to see a reputable Cannabis physician, preferably someone who has experience using Cannabis. There are a lot of medical marijuana doctors who lack personal experience with marijuana, and they are more focused on the financial potential of a medical marijuana practice than actually educating patients. You want a doctor who places importance on educating patients.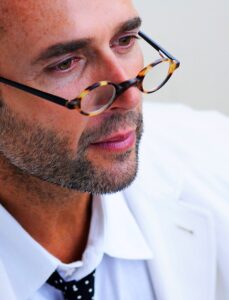 Carlos Levy is Board Certified in Family Practice and certified in Medical Cannabis. His practice, Relax and Release lives by the mantra "Educating to Empower." You can read more about Carlos' practice on the company website, Instagram and Facebook page.
If you would like to read more about medical marijuana dispensaries, please read our Q&A With a Dispensary Associate.
If you want to learn more about our optimal plant growth microbial solutions, please visit our root inoculant or biofilm cleaner page.